My Blog
Posts for: January, 2021
By Zsambeky, Chaney & Associates Family Dentistry
January 11, 2021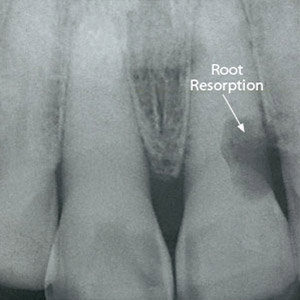 Most dental problems are caused by tooth decay or periodontal (gum) disease, easily preventable with dedicated daily hygiene and regular dental care.  But there are a few other rare conditions to be on alert for that could pose just as serious a threat to your dental health.
One of these is a phenomenon called root resorption. Put simply, certain cells arise within a tooth root that eat away and dissolve (resorb) tooth structure. Left unchecked, it could eventually lead to the tooth's demise.
Although its exact cause remains elusive, we suspect root resorption is associated with trauma to the gum ligaments earlier in life, perhaps from an injury or too much force applied during orthodontics. Other possible contributing factors include teeth-grinding habits or internal tooth bleaching procedures.
Root resorption in adults isn't that common, so your chances of experiencing it are low. But it is still possible, so you should be on the lookout for potential signs: Early on, it may appear as faint pink spots on teeth where the enamel has filled with the destructive cells eating away at the tooth. In time, these spots can increase to form cavities.
More than likely, though, your dentist may detect the problem during a dental exam. That's why regular dental cleanings and checkups are essential—a routine exam is a prime opportunity to uncover conditions like root resorption that silently undermine your teeth.
If found early, we can often treat root resorption effectively. We can often expose a small affected area with minor gum surgery, remove the harmful cells and fill any cavities with a tooth-colored filling. In some cases, we may recommend orthodontics beforehand to encourage a buildup of bone around the root by moving the affected tooth outward from the jawbone. If the resorption has affected the tooth pulp, you may also need a root canal treatment.
There is also the possibility with advanced resorption that the best course of action is to remove the tooth and replace it with a dental implant. So, keep up your regular dental visits—early detection and intervention can stop this destructive dental condition from destroying your tooth.
If you would like more information on root resorption, please contact us or schedule an appointment for a consultation. You can also learn more about this topic by reading the Dear Doctor magazine article "Root Resorption: An Unusual Phenomenon."
By Zsambeky, Chaney & Associates Family Dentistry
January 01, 2021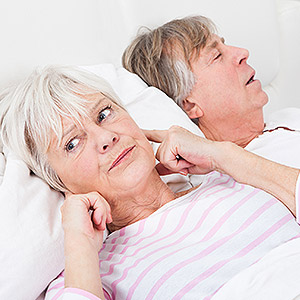 A full night's sleep isn't a luxury—we all need it for a healthy mind and body. But 50-70 million people in the U.S. aren't getting enough sleep because of a chronic sleep disorder like obstructive sleep apnea (OSA).
OSA happens when a sleeper's airway becomes blocked (most commonly by the tongue), cutting off oxygen to the brain. The body rouses from sleep to overcome the blockage. This awakening could last only a few seconds, after which the person immediately goes back to sleep. But it can occur hundreds of times a night and interrupt deeper sleep needed for a good night's rest.
Sleep disorders like OSA are a significant medical problem that could contribute to serious health issues like high blood pressure or cardiovascular disease. If you're experiencing fatigue, irritability or your family's complaints of you snoring, you should see a physician for diagnosis and treatment options.
You should also consider another health professional who could be helpful in dealing with OSA—and may even be able to provide a treatment option: your dentist. Here's how.
A dentist could discover your OSA. Because of twice-a-year dental visits, dentists often see patients more frequently than other healthcare providers. A properly trained dentist could pick up on signs and symptoms of sleep disorder, including patients falling asleep and even snoring while in the dentist's chair.
Dentists are familiar with the mouth. Few healthcare providers focus on the oral cavity like dentists. Besides the teeth and gums, dentists also have extensive knowledge of the tonsils, uvula and tongue that often play a role in sleep disorders. As such, a dentist may notice abnormalities during routine exams that might contribute to airway obstruction during sleep.
Dentists provide a treatment option. Many OSA patients use a CPAP mask to maintain an open airway during sleep. But CPAP therapy can be uncomfortable for some. For mild to moderate cases of OSA, dentists can create an oral appliance based on the patient's mouth dimensions that prevents the tongue from sinking back into the throat.
If you believe you may have OSA or a similar sleep disorder, by all means speak with your doctor. But also mention it to your dentist—your dental provider might hold the key to a better night's sleep.
If you would like more information on how we could help with your sleep apnea symptoms, please contact us or schedule an appointment for a consultation. You can also learn more about this topic by reading the Dear Doctor magazine article "Sleep Disorders & Dentistry."