My Blog
Posts for tag: dental implant
By Zsambeky, Chaney & Associates Family Dentistry
December 21, 2020

Dental implants are a reliable way to replace teeth. More than 95% of implants survive ten years after their installation, and many of these could conceivably continue for decades.
But that still leaves a tiny few that don't reach the ten-year mark. Some fail early because the implant didn't integrate fully with the bone to create a durable hold. But others fail later—usually for one of two major causes.
Some failures occur due to over-stressing of the implant from abnormally high biting forces, usually because of teeth grinding. People who have this involuntary habit generate excessive force as they grind their teeth, which can damage implants (as well as natural teeth). To reduce this force, a patient's dentist can fit them with a biteguard they wear in the mouth to prevent teeth from making solid contact with each other during a grinding episode.
Fortunately, teeth grinding isn't that prevalent among adults—but that can't be said about the other major cause for implant failure: periodontal (gum) disease. This is a bacterial infection caused by dental plaque, a thin, bacterial film that accumulates on teeth. The implant itself isn't affected by the infection, but the gums and underlying bone supporting the implant can be.
Implants are most in peril from a form of gum disease called Peri-implantitis, which spreads deeper into the gum tissues around implants faster than infections around natural teeth. That's because implants lack the gum attachment of real teeth, which supply a collagen barrier that slows the spread of infection. Peri-implantitis can quickly infect the supporting bone and eventually weaken its connection with the implant.
Because of its aggressiveness and speed, we must diagnose and treat peri-implantitis as soon as possible to limit any damage to the support structures around an implant. If you notice any swollen, reddened or bleeding gums, you should call your dentist as soon as possible for an examination.
And in light of this potential danger to your implants, you should also strive to prevent gum disease through daily oral hygiene. Brushing and flossing your teeth, including around your implants, removes harmful plaque buildup. This daily habit and regular dental cleanings will help you avoid a costly gum infection and ensure your implants are there for years to come.
If you would like more information on dental implants, please contact us or schedule an appointment for a consultation. You can also learn more about this topic by reading the Dear Doctor magazine article "Dental Implants: A Tooth-Replacement Method That Rarely Fails."
By Zsambeky, Chaney & Associates Family Dentistry
May 18, 2019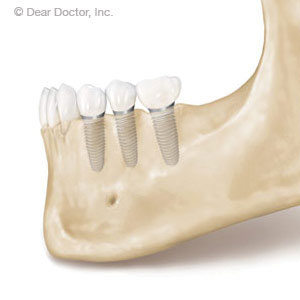 Losing teeth continues to be an all too common experience for people, especially those in their senior years. Fortunately, there are several ways to replace them, ranging from partial or full dentures to implants.
Some, though, postpone or simply choose not to replace a lost tooth, often because of the cost. But putting off a dental restoration could have a long-term impact on your health, and not in a good way. Continuing bone deterioration is one of the top consequences of delayed restoration.
Like other bones in the body, the jawbone is living tissue with cells that form, grow and eventually wear out. At the end of their life, these older cells give way to new cells. Eating and chewing play an important role in maintaining this growth cycle: the forces we generate as we chew travel up through the tooth roots to stimulate bone growth in the jaw.
When a tooth goes missing, though, the stimulus ends. Over time the bone cell replacement rate can fall off and the bone slowly loses volume. To make matters worse, bone loss can continue beyond the immediate bone underlying the tooth and affect the rest of the jawbone. The jaw can shrink in height and width, and in time become weaker overall and more susceptible to fracture.
But dental implant restorations in particular could help stop or even reverse bone deterioration at the site of the missing teeth. The titanium post implanted in the jaw attracts bone cells, which grow and adhere to its surface. Over time the bone fills in and becomes stronger.
You don't want to wait too long, though, because implants depend on a minimum amount of bone present for secure placement. You should therefore undergo an implant restoration as soon as it's practical after tooth loss. Otherwise, although we may be able to restore some of the lost bone with bone grafting, you may need to consider another restorative option.
When it comes to replacing missing teeth, time isn't on your side. But the right kind of dental restoration undertaken promptly can make for a brighter, healthier future.
If you would like more information on restoring lost teeth, please contact us or schedule an appointment for a consultation. You can also learn more about this topic by reading the Dear Doctor magazine article "The Hidden Consequences of Losing Teeth."